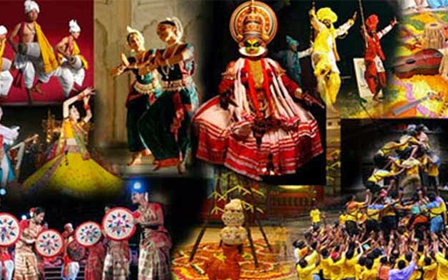 India-is a mystical land, exploring which will take you through the most serene experiences of your life. Indian culture is known to be oldest of civilization and often quoted as the first and the supreme culture of the world. The amalgamation of beliefs, practices, religion ,languages ,food and regions are so varied yet they all settle and survive and thrive that its almost unbelievable.
For instance, India has twenty eight states and seven union territories and though Hindi is commonly believed to be the main spoken language, however it isn't so. Almost sixty percent of the Indians speak their regional language such as Bengali,Marathi, Tamil ,Kannad and Urdu etc making Indian culture an exceptional culture of cultures in the world.
Religion takes up the most space whenever we talk about a country, a culture because that makes up their entire belief system and is often works on a secret code that the country lives on. Culture in India is such a burning example of diverse and different religions which yet functions very uniquely and rakes up an unparallel symbiosis of inter religion co-existence. Though majorly considered as a Hindu nation having about 84 % followers but is also reckoned as one of largest Muslim nations with around 13 % of the population following Islam. Since, India has been invaded many times by Mughals, India has a very strong Muslim culture weaved intricately into its cultural fabric.
Cuisine is definitely the next most popular thing with the identity of a country. India owing to its variant culture offers one of the most eclectic and delicious spread among the world cuisines. The food –regular, festive or exclusive delicacies follow a set of rules , a scientific logic as per region, temperature and availability of ingredients giving a multitude of options for the adventurous palate of every taste. Rice, Wheat, Pulses, Millet form the staple diet of Indians. Culture of India is predominantly influenced by its religious beliefs and it reflects in the vast variety of vegetarian delicacies prepared in every household. Mughal cuisine has left an undeniable mark on its culinary delights with its exotic non vegetarian dishes. India is also home to different regional delights such as Goan fish curry, Luckhnowi kebabs, ghostaba from Kashmir or chick peas curry and deep fried bread(puri) form the north –it gets very difficult to chose the winner among such a list.
The Forts, Palaces ,Havelis of Rajasthan or the mighty red fort or the epic Taj Mahal spells the majestic and royal acumen of artists and architecture of the Indian sub-continent The more one unravels ,the more intriguing it becomes. The honeycombed Palace of winds in the pink city will leave you mesmerised at the approach that honours women's privacy and yet provides a respite from the scorching heat of Rajasthan Sun. The presence of Indian classical dancers, musicians, painters, poets and many other performing arts on the world stage speaks volumes of the rich and varied art forms prospered on Indian soil . Traditional dance forms such Bharatnatyam, Kathak,Manipuri, Kuchipudi, odisi and Mohiniattam etc to name a few of the world known dances which represent many mythological beliefs of ancient Indian culture.
The traditional costume is sari for women and shirt and lungi for men. Different states have different attires .In the state of Punjab ,women wear Salwar( Lowers)Kameez(shirts) with duppatta(scarf) and men wear kurta pajama, in south India women wear silk sarees and lungi and shirt for men. Cotton or Tanth sarees are commonly worn by Bengali women and men wear dhuti and Panjabi. It is an impressive and vibrant ensemble on display when they come together as representatives of different states but all for one country- India.
South India is fascinating destination in India which is very different from the rest of India. It might be their traditions, festivals, food or clothing. It has distinct and separate character of it own among many states of India. South Indian are very devoted and dedicated to art and culture of the region. Kerela is known as God's own country as it seems like god himself has carved out the entire state. The magnificent Dravidian architecture evident in the temples of Tamil Nadu will certainly make you skip a heartbeat. Culture of south India revels in its deeply rooted religious and spiritual beliefs.
The metropolitan cities or urbane cities such as Delhi, Mumbai, Hyderabad and Kolkata act and work differently. They meet the usual global standards of doing business. However, if one plans to foray into other states of India for business, it would be advisable to have some information based on etiquettes and behaviours based on region, religion, castes and habits of the locals. Business culture in other Indian states varies due to such a complex and varied cultural base. For example, hindi is not the only Indian language spoken, if you are in Bengal you are expected to understand basic Bengali or if you are in Kerala, knowing the local dialect will prove immensely helpful. There is certain hierarchy observed such as a work meant for a babu or a office clerk will only be done by the clerk .At times these clerks seem to have more power than the appointed official himself.
Work culture and ethics in India are more relaxed than their western counter parts. You would typically find a westerner start work early in the day and finish early in the evening so that he gives about eight hours a day at work and rest he can use for personal purposes or leisure. You would find them occasionally working on weekends. Indian work force tends to begin their day around 9.00 am and stretch it till 9.00 pm . Deadlines are important but negotiable instead of being very strict about it. Though the scenario is fast changing and India is adopting the fair work practices of the west to achieve more work life balance. Being a apart Indian culture in any capacity even for a short period will open up many viewpoints and surprises for anyone who is willing to explore and take a chance at knowing one of the most enigmatic cultures of the world.